THREADDIES (#4) - Your weekly dosage of Threadless: UNSCRIPTED.

~~~~~~~~~~~~~~~~~~ CHECK OUT PAST ISSUES: [ #1| #2 | #3 ] ~~~~~~~~~~~~~~~~~~

Mitty
(MIT-ee)
(noun) An ordinary, timid person who indulges in daydreams involving great adventures and triumphs.
EXAMPLE: No one would ever look at mitty Mitch Loidolt and think it was him behind all his zany designs.
MUST SEE BLOG OF THE WEEK
THREADQUOTES COMIX by torakamikaze
Steve Woodswierth III created this amazing blog where he (and anyone else that wants to join in) create these little comics out of LOL-worthy quotes said by community members here on the blogs. Here are a couple examples... go on and make some of your own by taking a quote from the THREADQUOTES blog!!! --- BIG HONEYBOOBOOKISSES TO JAKESKAW FOR REVIVING THE OLD THREADQUOTES BLOG!!!!!!!
by Steve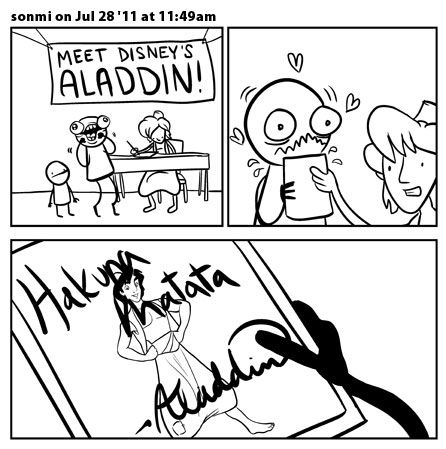 by Morkki

by Citizen Rifferson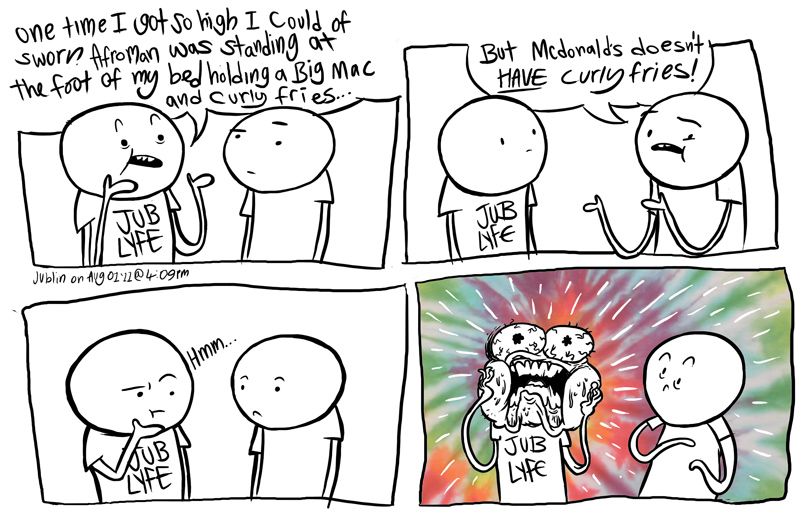 DEAR LIDIJA
Every week, Lidija aka celandinestern answers a question posed to her by a community member
OscarG asks: What is the best way to store you're Tshirts, so that you can see the design and so that it's ready to wear with no bad wrinkles? I currently own over 300 Threadless Tshirts and I'm LOST!
Dude, Oscar! 300 shirts? That's some collection. I don't think I own 300 items of clothing in total. Let's see, how could we organize such a giant pile of tees...... First and foremost, watch this video (link - HERE ) and practice the technique. It really works and is very cool. Next.....
Hang 'em up - First let's consider the wrinkling issue. Honestly, anything that lies folded will eventually crease, particularly if it's pressed down by 299 other things. If you have enough closet space, stick them on hangers. If you don't have enough closet space (like me), you could make a wall-to-wall shelf divided into cubes and distribute the tees so that only a few are stacked in each pile. That should ease on the creasing and allow better access. (I have shelves like this and I adore them) Alternatively, stick some pegs into your walls and hang your tees as wall art.
Make up a system - The only way you'll be able to find a particular tee is if you somehow break them down into more manageable sections. Class them by color, by illustration type, by artist's mother's maiden name -any method is good as long as it works for you. I suggest colors as that's probably easiest to recall. If you want to get really anal you could snap a photo of each tee, like a sort of mugshot I guess, and assign it a code number. Then label your shelves, assign certain tees to certain shelves, and when you're getting dressed just leaf through your digital catalogue and look up the tee you want.
Cut down the number - I'm only giving this as a third option, but dude, do you really need 300 tees? Are they all really still the right size, not worn out or faded or stretched or moth-eaten? Do you really wear them all? If there are some which no longer look their best, no longer fit perfectly, or you simply find yourself not loving them quite as much any more, you could find lots of ways to dispose of them -donate them, give them away to friends, upcycle them into cushions or bags or a giant quilt or something. That will cut down the numbers and leave you with a more manageable laundry pile. Also it will give you room for buying more :)

COMING BACK NEXT WEEK! OMAIR'S HANGING OUT WITH ALADDIN AND JASMINE IN DISNEY

FOOOOOOOOOOOOOOOOD
Frenchspeaking Threadstaff all-star Betsy is sharing some of her top secret recipes to holiday goodies.
This week? Her Ooey Gooey Caramel Pumpkin Blondies

What you'll need:
BATTER
¾ cups butter, softened
1 cup packed brown sugar
2 eggs
1 teaspoon vanilla extract
1 cup pumpkin puree1
teaspoon cinnamon
½ teaspoons nutmeg
1-¾ cup all-purpose flour
1 teaspoon baking soda
¼ teaspoons salt (I forgot this. No biggie)
FILLING
¼ cups semi-sweet chocolate chips (honestly I could have added more because I lurve chocolate)
14 ounces caramels unwrapped (1 bag)
¼ cups heavy cream
1) Preheat oven to 350 degrees F.
2) Lightly grease a 9 × 13 pan with cooking spray.
3) Cream butter and sugar. Stir in eggs, vanilla, and pumpkin. Incorporate the remaining ingredients into the batter. Scrape sides of bowl and mix again briefly to ensure a smooth batter. Spread about 2/3 of the batter evenly into the prepared pan.
4) Sprinkle chocolate chips over top of the batter.
5) Melt caramels and cream in microwave or stovetop, stirring frequently to avoid burning. Pour melted caramel over chocolate. Spread around evenly with a butter knife or spoon.
6) Place dollops of the remaining batter over the top of the caramel layer. Spread those dollops out to try and get a smooth layer of batter over top. (It's fine if some of the caramel layer is peeking through.)
7) Bake for 25 minutes or until edges are golden and a toothpick comes out clean when inserted.
8) Eat. Share. Enjoy.
SHIRT HAIKU by OwlsOnTheBrain


Thick rims on a lion
First feels on a winter's day,
Unwrapping Threadless.
REMEMBER WHEN...
The font used on the blogs was GEORGIA? On Oct 7, 2010 Threadless changed the forum font from Georgia to Helvetica. All hell broke loose.
One of my favorite videos from Threadless was when they had this little segment called HEATWAVE, where they played the beginning of a telenovela, and someone could write the ending to it. Brilliant performances by Festa and SpeedyJoe .. still brings me to tears laughing. Click on the image to go to the youtube video.
DON'T FORGET TO VOTE TO WHO GETS THE NEXT MADEBY COLLECTION! THE CHOICE IS IN YOUR HANDS! CLICK THE IMAGE BELOW! (Facebook required!)

WANT TO CONTRIBUTE SOMETHING TO THE NEXT ISSUE? EMAIL THREADDIES@GMAIL.COM